CONTACT MAGRIKIE
FOLLOW ON INSTAGRAM
Frequently asked questions
Q: Where can I buy your products / stationery?
A: Only some items are sold online. Check out my SHOP for some current products.
Q: Can I use your illustrations to make my own products?
A: If you purchase usage / licensing rights.
Q: Can I post your illustrations on my social media?
A: If I've given my written permission and you credit me in your post.
Q: Can I buy a single print of any illustration?
A: At the moment I'm not producing single prints of my artwork.
COPYRIGHT ©
© MAGRIKIE. All Rights Reserved. All images are Copyright of Magrikie. Do not use images without my written consent. If you are pinning, blogging or posting my work, don't forget to credit by adding a link to my website. Please respect the heart and soul that artists put into their work. Thank you :)
ABOUT MAGRIKIE
Magrikie was born and raised in South Africa. In 2000 she left her beloved homeland to pursue her creative calling and to attend Otis College of Art and Design in Los Angeles, California. This led to ambitious career opportunities with award-winning Advertising Agencies and Studios where her work was nominated for the prestigious Key Art Award. After many years as Art Director and Retoucher in the Advertising Industry, she started pouring her creative energy back into her passion of decorating surfaces. Today she works on an abundant array of illustration and design projects, creating art for any and all surfaces, including books, magazines, packaging, greeting cards, stationery, giftware, textiles, wall décor, drinkware, ceramics, murals and more. In 2018 she had the honor of having her illustrations featured on the the first ever "Scratch-&-Sniff Stamps" for the United States Postal Service. When she's not making art, you can find her on the mountains and coastlines of California or South Africa. With a heart for creativity & community, Magrikie has also partnered with non-profit organizations in California and in South Africa, using art as a tool for recreation & restoration within at-risk communities. You can see some of those Community Projects on her Workshops page. Magrikie loves to create and she continues to have the good fortune of working with a wide variety of clients, publishers & agencies, some of which include:
CLIENTS & LICENSEES
Hallmark, American Greetings, UK Greetings, International Greetings, Design Design / Convivial Brands, Gina B Designs, Biely & Shoaf, Galison l Mudpuppy, Calypso Cards, Marks & Spencer, Doordash / Caviar, MAC Cosmetics, Publix, The Land of Nod, Sellers Publishing, Papyrus, Demdaco, Pictura, Paper Rose / The Art group, Creative Tops / Lifetime Brands, Godiva Chocolatier, Popsugar, USPS (United States Postal Service), Robert Kaufman Fabrics, Rodale, Penguin Books, Weldon Owen, Harper Collins / Ecco Books, Women's Health Magazine, FLOW Magazine France, National Geographic School Publishing, Disney Playmates Toys, KAO Brands, Sterling Brands, DDB France, Brother Design, SupperStudio etc.
STUDIOS & AGENCIES
Dreamworks, Disney, 20th Century Fox, Paramount Pictures, Sony Pictures, Warner Bros, MGM, Picturehouse, Lionsgate, HBO, ABC Network, USA Network, A&E tv, NBC Network, Nickelodeon, Trailerpark / Art Machine, Ignition Creative, Bond Creative, DDB etc.
IFH MEMBERSHIP & PORTOFLIO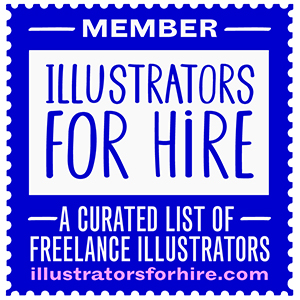 Thank you for stopping by!
For any other questions, send an email to magrikie@gmail.com